About Terra NutriTECH
Terra NutriTECH was founded after customers of Terra Services (Piping Business) kept looking for
a more accurate way to put liquid minerals into the water system. Tom & Padraig searched the
world for a solution that was precise, automated and easy to use. No such solution existed. So Terra
NutriTECH was born!
Our innovation will not be stopping here. We are developing new processes and technology based on our customer's feedback to further help our clients reduce cost, have healthier animals and save more time.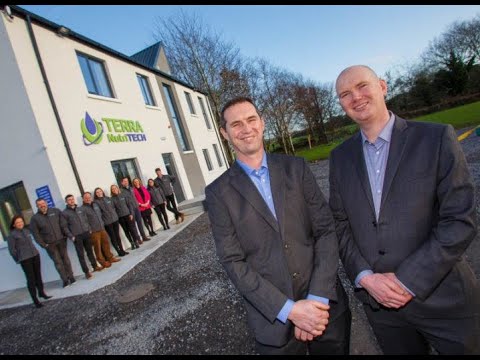 Our Story
TERRA NutriTECH began life in 2012 as TERRA Liquid Minerals when brothers Tom and Padraig Hennessy recognised a lack of progression in the minerals industry and developed an intelligent mineral dosing system.
In 2017, they expanded operations by building a new manufacturing facility to produce customised liquid minerals. Further expansion is under way with the building of a new office block and a holding yard for their magnesium and mineral products.
In September 2018, TERRA Liquid Minerals rebranded to TERRA NutriTECH and today, TERRA NutriTECH is a global company backed by science and innovation. They work with partners to improve animal health using agritech and automation to accurately feed minerals in water.
Our Product
The aim of the TERRA NutriTECH OPIS controller is to provide an automatic approach to mineral feeding, eliminating manual labour and human error. TERRA NutriTECH offer a fully managed system with tailor made mineral solutions to meet your farm's specific needs. To find out more about how our automated controller can help on your farm click here.
In 2017, having significant success with their mineral solutions, TERRA NutriTECH introduced the new Vital Range to the market. This range of consumable minerals is available from a number of Distributors across Ireland. The introduction of the Vital Range means that the high quality mineral products offered to existing TERRA NutriTECH customers are now available to the public for use on any farm, anywhere. The dilutable solutions can be mixed with water in your existing water troughs.
With innovation at the heart of the company culture, TERRA NutriTECH strive to bring their customers the best quality products and services available. For this reason, TERRA NutriTECH continually invest in research and development to provide the best solutions to their customers.
About Terra NutriTECH
Tom & Padraig Hennessys family farm is located in Moone, Co. Kildare. Both having grown up in a suckler and beef enterprise, their love of farming has always endured. It is on this family farm that they began Terra NutriTECH just 6 short years ago. In the past few years old silage pits and sheds have now made way for state of the art offices storage and manufacturing facility all to facilitate their rapid growth.
In 2019 Terra NutriTECH was chosen from a worldwide base to take part in The Pearse Lyons Accelerator and was showcased at The One Conference in the USA as being a leading agtech innovator worldwide.
Terra NutriTECH is proud to be a liquid mineral partner to many of the most progressive farmers in Ireland today and aim to continue innovation in order to bring the best service and products and help our customers goal of being leaders in their field.
Our Awards
In May 2018 TERRA NutriTECH was the overall winner of the National Enterprise Awards – a first for a Kildare company. This recognition was quickly followed a few weeks later by being chosen as winners of the Google Adopt-a-Startup program.
SFA National Small
Business Awards
2020
Finalists
Local Enterprise Office National Enterprise Awards
2018
Overall Winner
Google Adopt A Startup programme
2018
Winner
Agribusiness Awards
2016 Finalist
Agribusiness of the year merchant
Local Enterprise Office National Enterprise Awards
2016 Kildare County
Finalists
Agribusiness Awards
2015 Finalist
Agribusiness use of technology award